Breakout Session:
How Automation Can Solve the Call Center Hiring Riddle
Oct 11 - 9:00am - 9:45am

Breakout Room A
Highlights Of This Session
How Automation Can Solve the Call Center Hiring Riddle
With Replicant, it truly is like having an infinite supply of your best agents available any time of day. You can scale up or down instantly, regardless of call volumes and unexpected spikes. You can resolve customer issues with natural, human like AI-powered conversations that recognize customer intent and that customers actually enjoy. You can get real-time, searchable insights into call transcripts with auto-tagged dispositions and measure call drivers with advanced analytics, allowing you to run your contact center with more discipline and visibility. You can get started quickly with pre-built components that work out-of-the-box and scale conversational design best practices specific to any use-case or industry. And you only pay for what you use while scaling capacity up or down without upfront commitments, fixed charges, or maintenance fees.
Highlights Of This Session
Key Takeaways
Regardless of the customer's telephony and CRM, ERP, POS, etc., solutions, premise or cloud, Replicant's ProServ team can build the integrations needed if they haven't been built already. This transits into no tech stack changes needed from the customer.
Proprietary NLU engine built from millions of customer calls, the use of GPT and LLM allows customers to speak more naturally and be understood. This results in customer satisfaction and expansion opportunities.


Who Should Attend This Session
Call Center Managers focused on enhancing talent
Focused on how AI transforms contact center interactions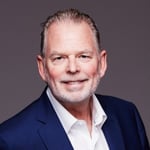 Head of Channels
Jim Tennant
As a senior executive with over twenty-five years of communications experience, Jim is responsible for the Channel Programs with Replicant. With both Direct & Indirect sales experience, Jim brings a wealth of talent-building sales & channel organizations that are high-performance, revenue growth-producing, and results-oriented.
Replicant at a Glance
Automation That Callers Love
Replicant's Thinking Machine listens and talks like a human so your customers can too. No more keywords or long menus required.

Deliver a consistent customer experience, in any language, using one shared intent library across all of your support channels.

Replicant's Large Language Model layer delivers increased resolutions, lower average handle times and faster deployment.
THE C3 TECH SUMMIT
Hear about Emerging Tech Trends
Replicant is just one of a multitude of sponsors at the C3 Tech Summit! Don't miss out on everything to learn! A summit focused on both the width and breadth of vendors, topics, and experts, you will find knowledge that will transform your business.